Mandatory face masks on public transport - 26 June 2021.
The Premier has announced today that, in response to the recent COVID situation and the advice from NSW Health, mandatory mask wearing has been extended to all of New South Wales at indoor venues and on public transport until further notice.
To stay COVID Safe on public transport, remember to Wear a mask, practice good hygiene and stay home if unwell.
Buslines Group would also like to encourage our passengers in the interest of ongoing health of our bus drivers to:-
observe the recommended 'social distancing' protocols and leave a 1.5 metre buffer zone from drivers where possible.
tender the correct fare when boarding the bus.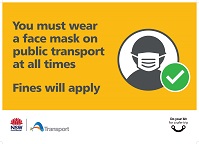 Keep up-to-date with the latest COVID-19: travel advice and information at Transport for NSW (TfNSW).
Keep up-to-date with the latest NSW Government information on COVID-19