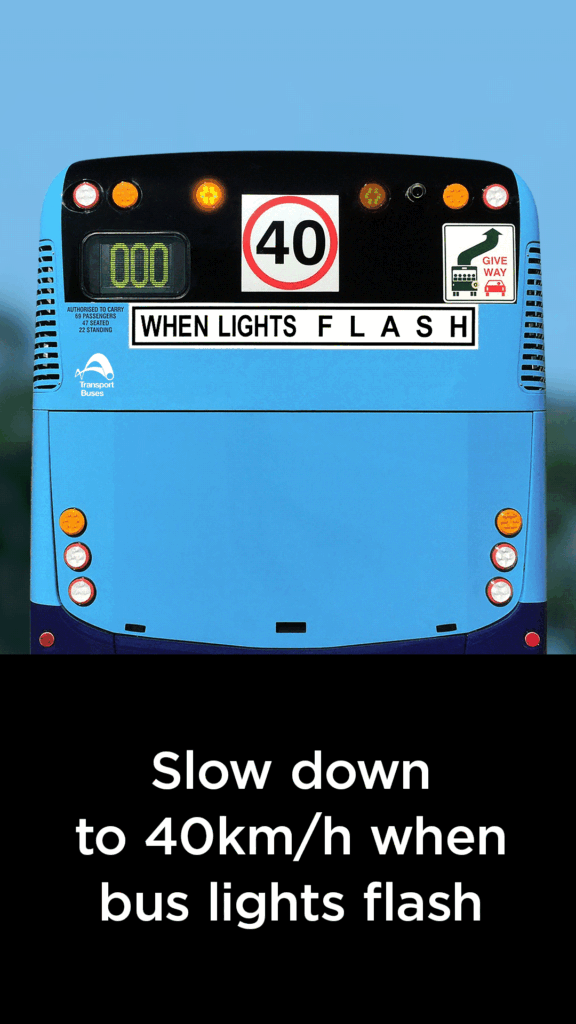 Drivers should look out for children who are crossing the road or waiting to cross. Lights flash on buses to warn motorists that buses are picking up and dropping off children. By law, a driver must not overtake or pass a bus with flashing lights at more than 40km/h.
Lights begin to flash when the bus stops and the doors open, and they keep flashing for about 20 seconds after the doors close. Children are most at risk in the minutes after they get off the bus.
Young children are often unpredictable in their movements. They are still developing the skills that help them to judge the direction of sound and the speed and distance of vehicles.
We know that because of their sheer size and mass, buses can cause severe outcomes for other road users in crashes. Motorists can help reduce the risk of a crash and keep children safe by:
Slowing down to 40km/h when bus lights are flashing
Looking out for children crossing the road near bus stops, in school zones or along bus routes
Giving way to buses when they merge back into traffic.
Parents and carers
School-aged children might seem independent, but they still need a hand. Remember:
Always meet your child AT school or the bus stop. NEVER wait on the opposite side of the road and call them across.
Always supervise your child and hold their hand when walking to and from the bus stop or interchange and when crossing the road until they are at least 10
Wait until the bus has gone then use a safe place to cross the road
Encourage your child to take a seat quickly when they get on the bus and to buckle up if the bus has seatbelts.
Rural and regional areas
In rural and regional areas there are many informal school bus stops that do not have signs or infrastructure, such as a bus shelter. They are often temporary and located at the end of a driveway or residence. Slow down to 40km/h when bus lights flash, look out for children crossing the road, and be aware that a stationary bus can impede view of children around buses.
Parents and carers also play an important role in ensuring the safety of students around school bus stops. If your child needs to use a rural bus stop that doesn't have signs or other safety infrastructure – think about whether it's located in a safe spot that allows buses to stop away from the road, with good lines of sight in both directions, and includes a safe place for you to park your vehicle and wait.